Notable Burials
John Henry (Jack) Yates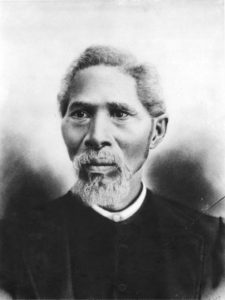 John Henry (Jack) Yates, b 1828 in Virginia, enslaved at birth, moved to the Houston area after emancipation. Founded Antioch Baptist Church, and Bethel Baptist Church, helped create Emancipation Park and Houston Academy. HISD high school named for him, buried in 1926.
Rev. Fred Lee Lights pastored numerous Central Texas churches including Antioch Baptist in Houston. President of several Missionary organizations and the Ministers Alliance of Houston, buried in 1928.
I. M. Terrell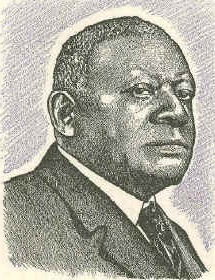 I. M. Terrell (and his wife, Emma), first African American teachers in the Fort Worth School System. Terrell became the first black principal in Fort Worth. Served as President of Prairie View and Houston College and as administrator of the Houston Negro Hospital until his death in 1931. HISD Middle School is names for him.
Annie Hagen, a trained nurse and midwife came to Houston with fifty cents in her possession. She organized the city's first nurses' training establishment, buried in 1928.
Photo Credit: Texas State Historical Association
WALKING TOUR NOTES
DAVID ABNER JR 1860-1928 S2-B1-L1
Graduated Bishop College, Marshall TX 1881
Professor at Bishop College
President of Guadalupe College in Sequin, TX for 20 years
1905 President of Conroe Normal and Industrial College
Then moved to Nashville to start American Baptist College working with the SBC opened in 1924
1928 Buried at College Park, wife was from Brenham, Tx
TERRELL FAMILY PLOT 1861-1931 S4-B1-L0
1881 Isaiah Milligan Terrell principal of the first free public school for Afr.-Am. in Fort Worth, Tx
1890-1915 Named Superintendent of Colored Schools in Ft. Worth also added a high school which bears his name
1915-1918 Named the 5th Administrator at Prairie View
1918 President of Houston College, moved to "San Felipe"street.
1923-1928 Superintendent at Union Hospital and organized Houston Negro Hospital which became Riverside General
Marcelite Landry Terrell was the first Afr.-Am woman to become a high school principal in Ft. Worth, her father was the first Afr.-Am mayor in the U.S, when he was elected in Donaldson, LA in 1868
NATHAN H HALLER 1845-1917 S4-B8-L8
1892 was elected to the Texas House of Representatives for Brazoria County.
Sat on the Roads, Bridges and Ferries, Labor and Penitentiaries committees. Introduced a bill that would have established a branch of UT for blacks, but it failed.
After his second term there was not another black that served in the House until 1966 (Barbra Jordon)
Moved to Houston and in 1910 was working as a wagon driver.
JACK YATES 1828-1897 S4-B1-L12
Read Marker
SGT VIDA HENRY PVT BRYANT WATSON S4-B6-L27
Houston Riot of 1917
US Army established Camp Logan in 1917 to train soldiers for WW1.
The 24th Battalion (all black soldiers) was assigned to guard the camp during construction.
Jim Crow laws were in full force. One soldier was arrested from questionable circumstances.
Sgt Henry organized the men and marched towards Houston.
Riot broke out, 4 soldiers and 16 civilians were killed
100 years later to the day, headstones were dedicated.
JOHN SESSUMS JR 1849-1928 S3-B?
Read Marker
ANNIE PRUETT BUTLER HAGEN 1863-1927 S7-B15-L6
Red Book of Houston, 1915 described "Mrs. Hagen is considered one of the best sick nurses and midwives in (Houston) and gained her training and experience by working under several leading physicians of Houston. She came to Houston with 50 cents and through her industry and thrift has accumulated a nice bit of property, owning her homestead and three rent houses, several city lots and farm property. She organized the first nurses' training club and has trained up several colored nurses"
REV FREDRICK LIGHTS 1859-1921 S4-B4-L46
1882 ordained as a Baptist Minister
Became Pastor of Antioch Baptist Church
President of Western Star Publishing
1905 Messenger to the World Baptist Congress, traveled to the British Isles and France
1910 attended the World's Foreign Mission Congress in Edinburgh, Scotland
LUCY WALLER 1854-1916
Born as a slave in Virginia and given to Miss Emma Garnett as her playmate and maid.
Moved to Corsicana, TX in 1875 and in 1890 James L Autry hired Lucy as housekeeper and nurse for his children.
Name                            Section Block Lot
Rev Jack Yates               4          1      12
IM Terrell                       4          1      46
Rev Ned Pullam               4          1      6
Rev. Fred Lights              4          4      46
Frank Kemp                    4          12     1
Rev Churchill Fulcher        4          2      27
Alex Starks                    2          4       14
Joe Haller                      2          5       4
Solomon Jones               2          1       1
Annie Hagan                  7          15      6
Daniel Bingham               7          19      3
Margaret Whitman          7          17      19
John Sessums                3          x         x